Does your guest app have these 5 key features?
So, you've worked out everything there is to work out with your Airbnb rental listings, and it's all coming together very nicely. Add to that a holiday rental guest app and you've got the proverbial icing on the cake, but does it have everything you need to ensure the guest has a premium experience and that all information is included?
Any guest app is part of the pre-arrival toolbox that all rental managers and Airbnb hosts need. This toolbox should include key elements such as distribution mechanism (ie how will you get the guest app to your guests after they have booked?)
Let's consider 5 things your current holiday rental guest app is missing and why you need them to grow your business.
1. Advance Check-In & Rental Agreements
Holiday rental guest apps today are typically just that – an app or website that displays useful information for your guests. However, before you send any guest guides out to your bookers you need to ensure you have aggregated key information such as ID and rental agreements first.
For starters, you need to make sure that your guests have the ability to check-in easily, so that you can aggregate all non-paying guests' contact details, guest IDs and arrival times. The simplest way to do this is via a digital web check in that can be customised to your needs. You should be aggregating the guest arrival time, IDs, non-paying guests contact details and any other relevant information.
Additionally, your pre-arrival digital tools should include an ability to send and receive signed rental agreements. This is typically done via an email automation tool – if this is not included in your guest app features then you should keep looking for alternatives.
Vacation rental agreements offers more protection that Airbnb or Booking.com standard terms and will give you more peace of mind.
2. Upselling Services
Your Guest App has three core functions. Firstly, it should help prevent calls from guests by educating them on how the property works. Secondly, it should offer practical advice on the local area, (including recommendations) and lastly, it is a marketing tool to drive brand awareness and to up-sell services to increase your revenue.
Holiday rental guest apps are a fantastic way to upsell services to your paying guests. Your app should have the ability to promote upselling services like additional cleaning, late checkout, room upgrades, etc. This will boost your conversion rate as you'll be offering your guests extra features when they want to upgrade or buy a service on the go.
If you current guest app does not offer the ability to up-sell services then you are prohibiting yourself from increasing your profit margins.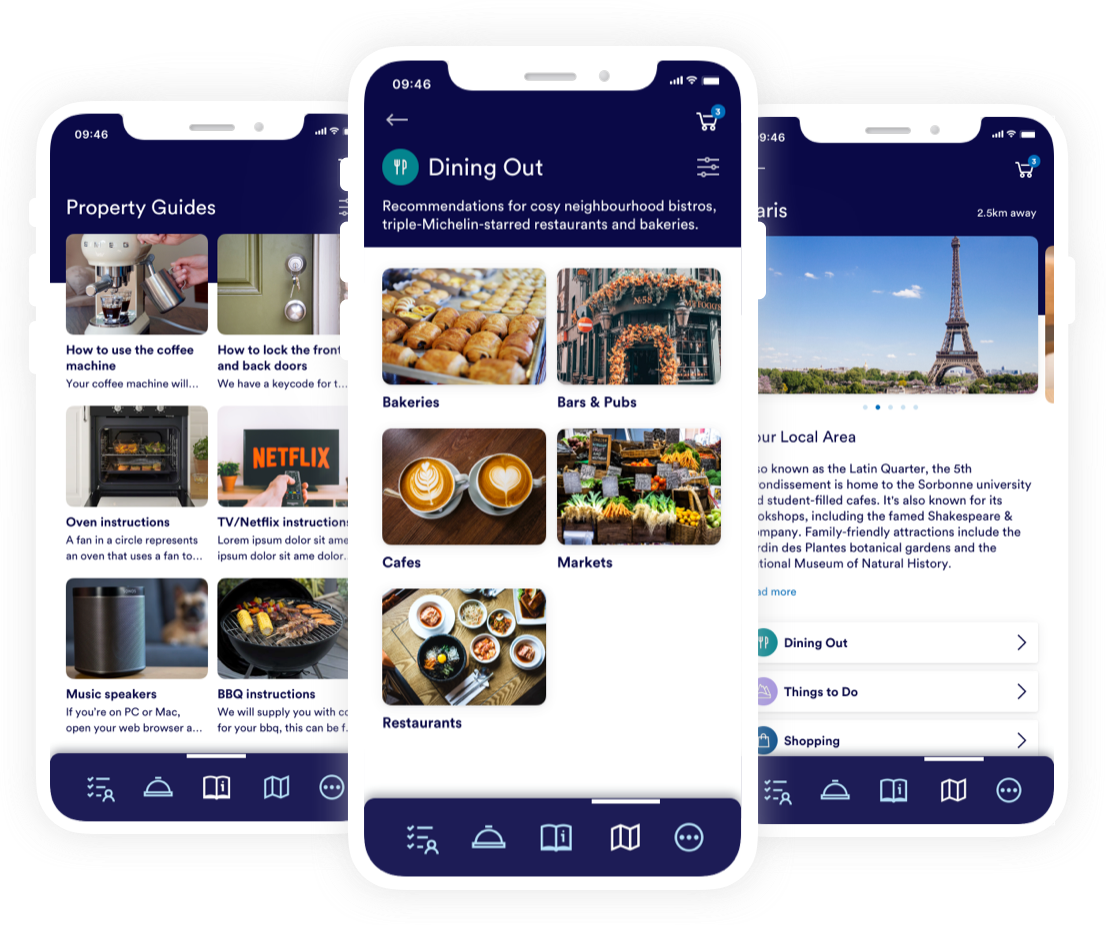 3. Guest Surveys
Your Guest App is the key way that you will engage with your guest prior to their arrival and therefore it makes sense to ensure you can access feedback to improve your processes. Surveys are a powerful way of bringing more value to a business by improving Net Promoter Score. The more positive feedback you get from your guests, the more you can share it across all your online channels, pushing your listings higher up the search rankings.
Just make sure that your guest surveys are direct and to-the-point, asking only questions which are relevant to improving your guests' overall experience.
4. Guest CRM
When Property Managers start out in the short term rental business they typically rely on OTA's such as Airbnb & Booking.com. However, the fees are high using these platforms, sometimes as high as 18% of gross booking value.
Integrating a guest CRM in your pre-arrival toolset is an absolute must have for all holiday rental managers. Ensure you are aggregating all guest contact details and other relevant information such as i) reason for booking ii) type of booking eg family.
Once you grow your guest CRM you can segment your previous guests and tailor relevant emails to target rebooking directly on your website.
For a fact, one of the most valuable tools you can have in your arsenal is a vigorous customer database which can seamlessly track all your guests' information in real time. This helps to build better relationships, almost guaranteeing better guest loyalty and helping you become more profitable.
Furthermore, having all your guests' details in one place, where you can also tag guests and leave them notes, lets you remarket and drive even more direct bookings.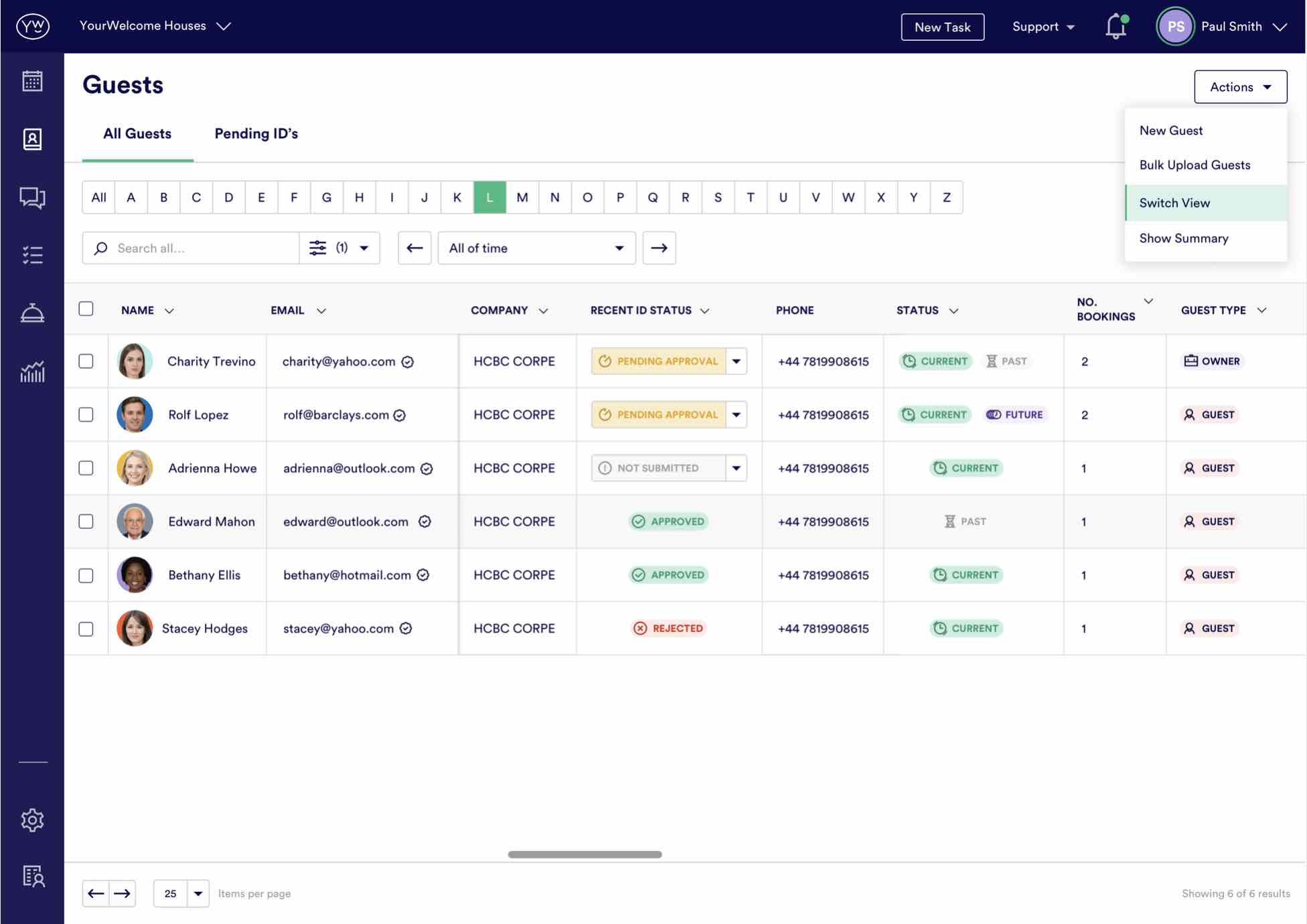 5. PMS Integrations
The number one rule in vacation rental technology is only choose suppliers that integrate with your other software. All holiday rental managers use a Property Management System and this is the "heartbeat" of the business. Therefore any guest app or pre-arrival tool must have a direct integration with the PMS to ensure you do not manually have to add URLs to distribute your guest app. Integrations save you time and ensure you are able to focus on growing your business.
GuestGuides.com is powered by YourWelcome. We work with over 1,500 property managers delivering digital solutions to grow their business. These tools include GuestGuides – the #1 guest app for holiday rentals, YourWelcome Tablets – a point of sale tablet installed in your property to upsell services and PropertyCare.com – the #1 cleaner & maintenance scheduling platform.